With six current Super Bowl champions planning to skip out on the White House festivities, the New England Patriots are continuing to make headlines, even after their miraculous comeback victory.
Outspoken tight end Martellus Bennett was the first to proclaim his absence. "I'm not going to go," he said. "People know how I feel about it. Just follow me on Twitter."
Defensive back Devin McCourty followed suit, offering his candid feelings in a text message to TIME:
"I'm not going to the White House. Basic reason for me is I don't feel accepted in the White House. With the president having so many strong opinions and prejudices I believe certain people might feel accepted there while others won't."
Linebacker Dont'a Hightower, defensive linemen Alan Branch and Chris Long, and running back LaGarrette Blount have all since stated their intentions to forego their "privilege" to visit the 45th President at the White House. While many did not directly attribute their absence directly to the President's policies or statements, Blount did state that he did not "feel welcome."
It may not be exactly each player's motivation for choosing to pass on the opportunity to visit the nation's capital. For Bennett, McCourty, and Blount, however, what is unmistakable is that they are not only concerned with the direction of our country's federal government but stand in direct opposition to the President's policies and rhetoric.
And that, on its own merit, is more important than any victory in any football game—even the biggest spectacle in American sports.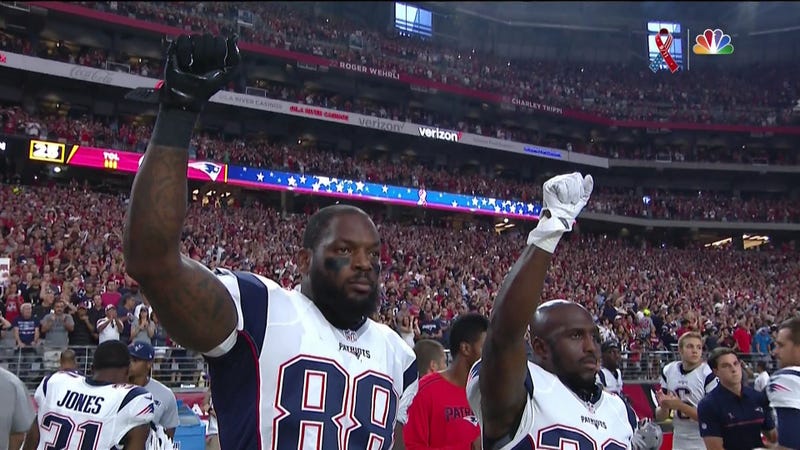 The nation is dealing with a political, racial and social climate that many of its citizens have yet to encounter. American exceptionalism has become a new normal in ways that feel inconceivable to much of the public. "Make America Great Again" has emerged as a platform from the President's campaign that to many segments of the country does not evoke pride, patriotism, or a beacon of hope for the future.
For the vast majority of people of color, underrepresented populations and immigrants both documented and undocumented, that slogan represented—as CNN commentator Van Jones so eloquently described— "a whitelash" against culture, diversity and the nation's values of inclusion and openness. "Make America Great Again" served as an 'Alt-Right' calling to essentially "Make America White Again," a return to uglier times in the country's history.  
The Atlantic did a superb job of highlighting the environment the country left and the direction towards which it's heading: "For Obama, what made America exceptional was its ever-expanding circle of inclusion. By overcoming its history of bigotry, and building a society where people of different races, ethnicities and religions lived in harmony, America overcame the tribal hatreds that marred other lands and became a model for the world."
Unfortunately, "Make America Great Again" does not speak to the country's work to overcome bigotry and hate in attempts to move toward greater harmony. As The Atlantic article states, while President Obama recognized that:
"(W)hat sets America apart is its inclusivity, [the 45th President] and his advisors say that what sets America apart is its sovereignty. The implication is that what will make America exceptional is not its success in integrating Muslims but its success in keeping them [and other immigrants] out."
What makes the stance of these six Patriots, specifically Bennett, McCourty and Blount, remarkable is their willingness to stand firm in the belief that this new direction is unacceptable. When McCourty speaks to the President's strong opinions, prejudice, and to the possibility that people may not feel accepted, he is speaking to divisive campaign rhetoric communicated for the past year and a half. These were the same messages that excluded Latinos/as, women, non-Christian immigrants and refugees, and Black people (except for a handful of "mediocre Negroes").  
Last July, I wrote a piece about how Black athletes, and other athletes of color needed to answer the call to activism. Those who are less fortunate, less well off, and have less of a voice need those people with a greater reach to speak for them, and take up their flag. Since that time, the nation has seen Colin Kaepernick spark a movement of silent protests around the country  highlighting injustices in communities of color (Bennett and McCourty both joined in these protests). Given the shift in today's American political landscape since November 8th, 2016, it only enhances the necessity for more sports stars and entertainers to give a voice to the voiceless and oppressed, especially when it seems like the new powers-that-be in Washington D.C. are either choosing not to listen or don't care. These Patriots' players are only joining in the movement and continuing the progress already started.  
Former Chicago Bulls sharpshooter Craig Hodges highlighted the risk of speaking out against injustice. He went to the White House in 1992 and offered then-President Bush a list of recommendations to aid the Black community. 1992 was his last year as a professional basketball player. Bennett has gone on record that not only is he not afraid of the backlash, but he won't just stick to talking about sports. NFL players put their bodies on the line with each play during every game. But the desire and will for these players to remain united with the marginalized persons in this country is true courage.
Winning a Super Bowl is a feat that deserves to be congratulated. But when the President insists on closing the borders to immigrants and refugees, disenfranchising underprivileged communities, and tearing away at the fabric that makes this nation what it is today, taking a drastically opposite stand for inclusion, equality and liberty is a victory that deserves to be celebrated.  
Creator of Thin Line Collective. Disciple of the 36 chambers. By night I play fantasy sports, drink craft beer, and struggle to cook dinner for my wife and daughter.