Word on the street is that the Houston Texans will be the next featured team on HBO's Hard Knocks this summer. The NFL-HBO collaboration documentary series is now in its 10th year and will be ready for DVR-ing on August 11 at 10 p.m. ET. Additionally, HBO has decided to be here for the people by announcing Hard Knocks will also air on HBO Now, the new streaming service by the premier cable network that does not require a cable subscription. (Insert praise hands emoji here.)
If you need a reason to get excited about the 10th season of the Texans, then don't worry, we've got you covered. Here are the five things we're curious about with HBO's ongoing reality NFL series, as the Texans get the spotlight.
We want to get to know non-stars besides Watt and Arian
Believe it or not, there are legit players that are stars and have personality on the Houston Texans roster. Not many, but there are a few. Brian Cushing is one steroid-free season away from reminding folks that he is one of the best middle linebackers in the NFL. Jadeveon Clowney might actually be as good as J.J. Watt at defensive end, if he can ever get on the field. Jonathan Joseph is consistently rated as one of the best cover corners in the league. In some football nerd circles, Duane Brown is the best left tackle in the game. In wedding circles, Duane Brown evidently knows how to pick out a wedding dress.
Yes, Watt and Arian Foster have both the talent and the personality that make watching Hard Knocks a must-see event, but the emergence of fresh new faces is the reason why we come back to the series.
The torch passed from Andre to DeAndre
As the Texans finished up their first day of the offseason training program, reporters gathered around DeAndre Hopkins to ask him about life in Houston after the exodus of Andre Johnson. He was asked how it felt to not have Johnson around. He replied, "No comment." He was asked how he feels being the top receiver without him. Again, he replied, "No comment." To many, this looks DeAndre throwing low-key shade toward Andre, but in reality, it was the ultimate form of respect.
For "Nuk," his given nickname, Andre Johnson gave him all the game. Part of that game is knowing when to speak and when not to say anything. When DeAndre was asked about working with the new, young wideouts on the roster, he was more than congenial.
"I told those guys they could come to me. Coaches are going to help them transition into this offense, but a lot of wide receivers in there look up to me because we don't have 80 here anymore. I like that chip on my shoulder." — DeAndre Hopkins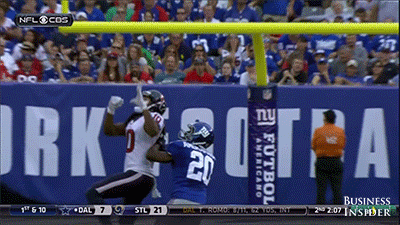 DeAndre is the new "Dre" leader of the Texans' wideouts, and with all due respect of Andre, it's Nuk's time to shine and figure out how to lead in his own way. Also, he makes absurd catches all the time.
Has Hard Knocks served its purpose?
When the Miami Dolphins hosted Hard Knocks, some of you told us that you "didn't care" about them because they lacked personality. You were disappointed when Cincinnati had it the second time around because it clearly couldn't match the excellence of the Bengals' first go-round in 2009. You barely tweeted about the Atlanta Falcons last year.
On the flip side, media nerds and the people who love them salivated over the Rex Ryan era New York Jets, and Jerry Jones believed the program was just begging for his Dallas Cowboys to be on it. So what if the very last thing those teams needed was more cameras since the NFL's league partners already have enough coverage of them for their sheer existence?
Since 2011, teams have roundly passed on the show now because suddenly they are "camera-shy." It got to the point that the NFL's extension with HBO now requires a team to participate (with some exceptions).
That's like the most excessive extra-credit question of all time.
Maybe it's because when the show debuted 14 years ago, there was nothing like it in sports. Yet, with far more coverage on training camp than ever before plus the players' willingness to share their lives online to the public, Hard Knocks doesn't seem to have that same oomph it once did with Baltimore in 2001 or with Kansas City in 2009.
Has the show has outlived its usefulness? It's debatable, but it probably hasn't if you can get that right mix of celebrity and intrigue of "the others." Maybe Houston has it. We shall see.
If anything, Liev Schreiber is still that dude, as the kids say.
Vince Wilfork escaped Shawshank, now a free man
Vince Wilfork is not only one of my favorite players in the league — he's responsible for two of my favorite big-fella videos on YouTube: his extremely unfair high school highlight reel (he snatches some poor kid by his soul around the 46-second mark) and his showing as the fonkiest rib maker of all time.
But I think we were robbed of a lot of Wilfork's personality when he played for New England. That's an organization that will have everyone believe the team is full of consummate professionals even though, through the years, they're sort of like a lot of other NFL teams.
But now Wilfork is away from the Patriots, has his money right and has his winning taken care of. Wilfork is going to be relaxing and enjoying himself, in a new city full of good-ass food, fun people and, well, just isn't Boston. Go and be free, big fella. Go and be free.
The great QB battle between Ryan Mallett and Brian Hoyer
Hard Knocks will provide us with an up-close look at everyone's favorite training-camp drama, the quarterback competition. Brian Hoyer will duke it out with Ryan Mallett for the keys to the Texans' offense. While neither of those names elicit a ton of excitement from fans or strike much fear in the hearts of defensive backs, a competition for arguably the most important position in sports is bound to provide some entertainment.
Adding to the intrigue is the quarterback pedigree of coach Bill O'Brien. O'Brien worked with Tom Brady in New England, and in his two seasons at Penn State he performed wonders on the quarterback position. In his first year in State College, he turned former walk-on Matt McGloin into a player who has started in the NFL. Then in his second and final season at Penn State he had true freshman Christian Hackenberg putting up stellar numbers en route to winning Big Ten Freshman of the Year honors. Getting an up-close look at how O'Brien works with his quarterbacks and seeing what he can do with two relatively pedestrian players should undoubtedly be entertaining and provide some insight.
This article was put together by TSFJ staff members Jason Clinkscales, Carden Hedelt, Eddie Maisonet and Josh Naso.
Because you love TSFJ as a staff, record label, and as a *bleeping* crew!