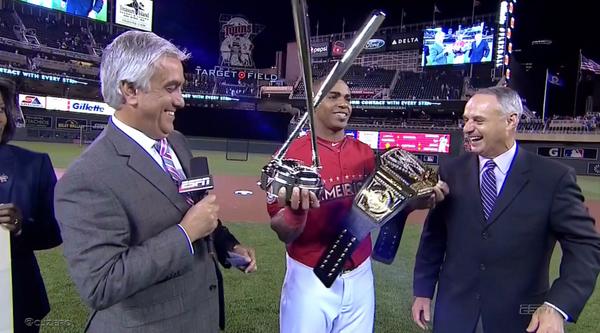 It's Back-To-Back For Yoenis Cespedes
Before tonight, the only player to ever win the Home Run Derby in back-to-back years was Ken Griffey Jr. Now we can add Yoenis Cespedes to the list, as the Oakland A's slugger defended his crown in impressive fashion. Yoenis put in his work for the long haul, getting stronger as the competition got weaker.
With no break to slow him down like second-round byes Jose Bautista and Giancarlo Stanton, Cespedes kept cranking them out, higher, longer, farther and with more violence as the Derby went on. The only thing missing was the backwards cap. Long live, Yoenis Cespedes, home run king — again. -- @revpaulrevere
First Yasiel Got Zero, Now It's Giancarlo's Turn
I don't know if Todd Frazier paid Yasiel Puig to get zero home runs, but he did. This allowed Frazier to get into a new thing called a "swing-off," through which he made it to the next round. After making it past the second round (by the way, this HR Derby has way too many rounds), in the third round he was matched up with Giancarlo Stanton. You know, the guy who almost hit it out of the stadium earlier tonight? Yeah, him.
So what does Stanton do after Frazier hits just one home run? Puig and Stanton both put up zeroes, and now we have to deal with Todd Frazier in the Derby Finals. The Baseball gods aren't fair at all man, not one bit. Todd Frazier is your NL Home Run Derby champion. Sigh. -- @edthesportsfan
Finally, Something Mike Trout's Not Good At: Speaking Spanish
Mike Trout is probably the greatest baseball player in the world. If there's something that needs to be done on a baseball diamond, the man can get it done. Yet when it comes to hanging out with the most gregarious and exuberant hispanic baseball players in Major League Baseball, Trout is lacking in one crucial department. No hablo espanol.
Look at Mike Trout's face while Yoenis Cespedes, Robinson Cano and three other unidentified hispanic players are having the time of their lives. Trout wants to join in so bad, but his inability to understand the latin language has the man literally looking from the outside. Poor guy. Thank God he's good at baseball, right? -- @edthesportsfan
10 > 7, Literally And Figuratively
For as long as it's been around, the MLB Home Run Derby has given participants 10 outs in each at-bat. This year, it was reduced to seven. Obviously, seven is less than 10, and frankly, the three fewer outs have taken some wind out of the home run sails.
With only seven outs to work with, the hitters have been having a difficult time getting into a groove and going on a home run role. Jose Bautista made it look easy in the first round, but no one else has come close to cracking double digits in a round. It's led to less home runs overall, not more. That sort of defeats the purpose of a home run derby, doesn't it? We want more dingers, not less. Ten is greater than seven indeed. —@RevPaulRevere

Yasiel Puig Is Even Interesting In His Futility
In a rare move, the Los Angeles traffic gods cut 20 minutes off my commute home to allow me to catch Yasiel Puig's debut to the All-Star festivities. After looking at the first pitch he saw, he dribbled the second pitch back to Robinson Cano's dad with a check swing. One out. Laughter. The Dodgers have a long history of not showing up at the HR Derby (Piazza went 0-fer twice, Matt Kemp mustered a whole two one year), but Puig's performance was different — mainly because Puig is different. I loved Puig's performance as a fan of him and as a fan of the Giants. Long live the most interesting ball player in the world. —@imsohideouss
Giancarlo Stanton Almost Hit A Ball Out Of Target Field
There's really nothing that needs to be said. When he hit it, I yelled and cursed obscenities. That's how you know it's real, when you see someone hit a bomb and you just start screaming and cussing for no damn reason. Well, there was a reason actually. You see how far he hit that? Good grief. -- @edthesportsfan
Yasiel Puig Goes 0-fer, But Hilariously Check Swings
I can't tell if Puig going homerless is more or less in tune with his character than if he had belted 30 out of Target Field and threw another one out for good measure. Anyways. Good job, good effort. @noclassfriday
Jose Bautista Just Went HAM In Minnesota
If you're sitting in the upper deck, and someone has the decency to hit a ball up to you then you better catch it. The guy up above failed miserably and has forever failed in life. Thank God Joey Bats decided to hit 10 of them up into the stands. Twins fans, you're welcome. -- @edthesportsfan


Joe Mauer, The Minnesotan All-Star Who Isn't
Minnesota hosts the All-Star game and its favorite son Joe Mauer fails to make the team. But even though the catcher-turned-first baseman can't contribute with his bat, he's at least making a mark with his voice. More specifically, his glorious Minnesota accent. Mauer joined Chris Berman and John Kruk in the broadcast booth to discuss "hohmers" and teammate "Brian Dohzier." The only way the segment could have been better is if Mauer broke into De la Soul's "Oodles of O's." The St. Paul native went on to thank Boomer and Krukie several times but not before downplaying his own abilities. Mauer is a Minnesotan to the core, and we love him for it. —@noclassfriday
Troy Tulowitzki Leads All Contests With...4 Home Runs
There's a good chance that the first two hitters in the 2014 MLB Home Run Derby you maybe have never heard of in your life. Thank God Troy Tulowitzki decided to show up. Here's his longest shot, going into the upper deck. I'm glad he hit this shot, because otherwise I might've fallen asleep.  Oh, and next up? Joey Bats. -- @edthesportsfan
Justin Morneau's Deserving Standing O
I'll just go ahead and let @mjenson's Vine video do the honors.
Well done, Minnesota. Well done. —@RevPaulRevere
I Immediately Regret This Decision
The Home Run Derby was supposed to start at 8 p.m. EST. It is right now five of 9 and nothing has started. At all. A small weather delay has turned into ESPN being as awful as it always is … and now I have to listen to Chris Berman and his annoying-ass voice. Kill me. —@RevPaulRevere
Nostalgia Or Nausea?
I used to love the MLB All-Star Game's precursor, the Home Run Derby. I also used to love "professional" wrestling and picking my boogers and wiping them off on my bedroom wall. (OK, I may or may not still enjoy doing one of those two things.) Then I grew up and realized that amateur wrestling is way more awesome and that boogers are disgusting (and hilarious).
In all seriousness, the Derby has had its memorable moments on me as a baseball fan. Mark McGwire sending bombs over the Green Monster. Ken Griffey Jr. swinging his sweet stroke with the backward hat. Philadelphia Phillies Bobby Abreu and Ryan Howard taking home the home run crown. Mike Piazza putting up a doughnut at Veterans Stadium, the ballpark he grew up attending as a child resident of Norristown, Pa.
But you know, over the years, the Derby has just gotten more laborious and frankly boring to watch. Too many rounds. Too many odd rules. Too long of a broadcast. Chicks may dig the long ball, but watching guys take batting practice and screw up their swings in the process gets old pretty quickly.
What I'm trying to say is the Home Run Derby is boring as hell. Or at least it has been the past few years for me. So this very well may be a torturous exercise in futility, particularly with Chris Berman continuing to do his more than tired schtick.
Still, the rules have changed this year, and exciting names like Yasiel Puig, Jose Bautista, Troy Tulowitzki, Giancarlo Stanton and Yoenis Cespedes headline a strong field, not to mention the Minnesota return of Justin Morneau, who won an American League MVP as a member of the Twins. Who knows, maybe this year's Derby will surprise me, and I won't be so damn bored this time around. —@RevPaulRevere
2014 MLB Home Run Derby: We're Live-Blogging It Because This Will Either Be Awesome Or Boring As Hell
After the NBA Finals and the FIFA World Cup, the sports docket now calls for us to all enjoy … the Home Run Derby?
Yes, Monday night will feature the "best" sluggers from the American and National Leagues as we prepare to enjoy the 2014 MLB Home Run Derby. There was a time in our lives where experiencing this event during the Midsummer Classic was must-see TV, but with rampant juicing and hit-or-miss performances, our fan senses have been dulled a bit. So could 2014 prove to be a different experience?
Outside of the fact that we'll have to deal with Chris Berman and his "BACK-BACK-BACK" speech impediment, there are some folks worth seeing. The American League will look to defend its title with two Oakland Athletics sluggers in Yoenis Cespedes (defending champ) and Josh Donaldson, plus AL captain Jose Bautista, Adam Jones and Brian Dozier. The National League will be led by Giancarlo Stanton, the Macho Man Yasiel Puig, Troy Tulowitzki, Todd Frazier and Minnesota's own (Now Colorado's) Justin Morneau rounding out the NL lineup.
TSFJ will be live-blogging and tweeting throughout the night. So grab some popcorn and a big drink and enjoy the festivities. Let's hopefully have some fun. (Or be bored out of our minds.)
Oh, and if you missed the 2013 Home Run Derby, we gotcha covered. —@edthesportsfan
Because you love TSFJ as a staff, record label, and as a *bleeping* crew!