It is now April, which means the NFL draft is officially this month. Free agency brought some clarity to depth charts, so now it's easier to see where teams have holes to fill with their picks. Incoming rookies can make big impacts if they walk into the right situation, and this series will compare where the best landing spots are for each position based on team needs and surrounding talent.
Last but certainly not least is wide receiver in what is considered to be one of the greatest draft classes ever seen at the position. Some of them will end up becoming stars no matter what team takes them, but finding a good fit with available opportunities and a solid quarterback will allow for a quicker take off. The prevalence of three- or even four-receiver formations in today's game means that any high draft pick is likely to see the field right away, and having less competition for targets, ideally in a well-run offense, can produce immediate results.
1. Las Vegas Raiders
With the Amari Cooper trade in 2018 followed by the Antonio Brown fiasco last year, the Raiders are desperate for a #1 receiver. Speedster Tyrell Williams and slot specialist Hunter Renfrow are nice complimentary receivers to go along with breakout tight end Darren Waller, but they lack a true target hog to take the passing game to the next level. Derek Carr has set career highs in completion percentage, yards, and yards per attempt in each of his first two seasons in Jon Gruden's offense, so a new weapon could turn this new efficiency into sustained scoring production. After all, they were only 24th in points scored, despite being ranked 9th in passing yards, 13th in rushing yards, and 11th in yards overall.
2. Philadelphia Eagles
Both Alshon Jeffery and DeSean Jackson are now in their 30s and have been hindered by injuries, so a new perimeter threat is needed around tight ends Zach Ertz and Dallas Goedert. Former high draft picks Nelson Agholor and J.J. Arcega-Whiteside have failed to make an impact, and the departure of the former leaves behind the second-most wide receiver targets on the team that had the 8th-most pass attempts. It certainly helps a rookie receiver having Carson Wentz, who finished 3rd in 2017 MVP voting and is just entering his prime at age 27, throwing the passes, and Pro Football Focus' #1 offensive line should provide ample time to go downfield.
3. Green Bay Packers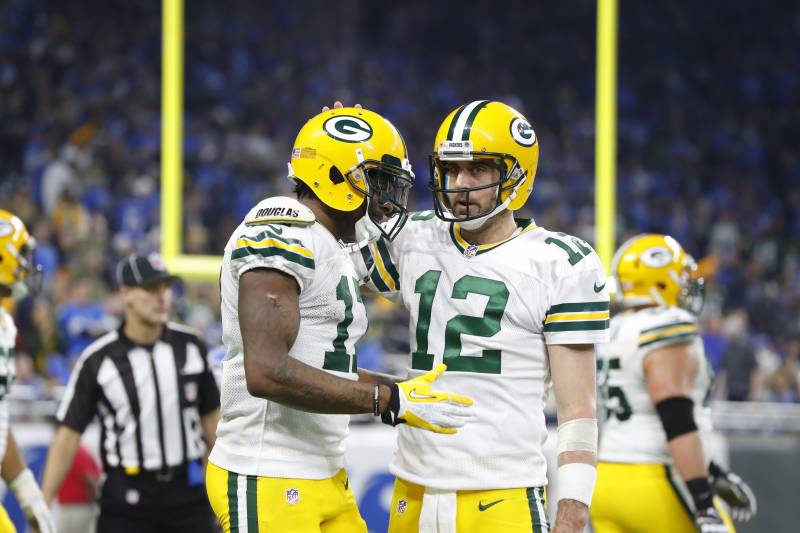 Although the presence of Davante Adams puts a limit on upside, there's a case to be made for this to be the #1 destination due to the ideal pairing with two-time MVP Aaron Rodgers. There is also a wide open opportunity for targets behind the top target, especially with Jimmy Graham and Geronimo Allison gone after seeing the third- and fifth-most looks on the team, respectively. Allen Lazard and Marquez Valdes-Scantling proved to only be role players when given their chances last year, and Devin Funchess only receiving $1 million guaranteed means he was just a depth signing. Any high draft pick should be able to win a starting spot in no time.
4. Indianapolis Colts
T.Y. Hilton has been in dire need of a running mate for too long, and now he turns 31 this season after missing a career-high six games last year. A rookie can walk into a starting spot over the likes of Zach Pascal and Parris Campbell and have the potential to become the #1 receiver if Hilton succumbs to injury again. The signing of Phillip Rivers provides an upgrade at quarterback, as well, and he will have PFF's #3 offensive line protecting him. That means the 16th-highest scoring offense is poised to improve, and Eric Ebron leaving in free agency also leaves the door open for a bigger receiver to become the top red zone option.
5. New York Jets
(Adam Hunger/AP Photo)
With question marks beyond their #1 receivers, the Vikings, Broncos, and Redskins were also in strong consideration for this spot, but Minnesota's run heavy scheme and the uncertainty of youth at quarterback for the other two gives the Jets the edge. Third-year passer Sam Darnold still has a lot to prove himself, but he's shown encouraging flashes across 26 starts. He led the team to a 6-2 finish over the second half of last season with 1,947 yards, 15 total touchdowns, and just four interceptions after a bout of mononucleosis hampered the beginning of the year. Robby Anderson and Demaryius Thomas weren't re-signed after seeing the 2nd- and 3rd-most wide receiver targets, and although Jamison Crowder is reliable in the slot, leading the team in looks only resulted in 833 yards on 78 catches. New addition Breshad Perriman does provide a deep threat, but with just 95 receptions over 51 games played, he likely won't stand in the way of a high draft pick becoming the alpha receiver.
Come for sports, TV, and movie takes; stay for the occasional witty line thrown in