It is now April, which means the NFL draft is officially this month. Free agency brought some clarity to depth charts, so now it's easier to see where teams have holes to fill with their picks. Incoming rookies can make big impacts if they walk into the right situation, and this series will compare where the best landing spots are for each position based on team needs and surrounding talent.
First up is quarterback, which is the most influential position in the sport yet needs a strong supporting cast to shine. That starts with having time to make throws with strong protection up front, so a ranking of all 32 offensive lines from Pro Football Focus will be referenced throughout. Teams selecting at the top of the draft often are there because they need a franchise quarterback, but do they have pieces in place for a rookie to step in and be successful? Let's dig in.
1. Cincinnati Bengals
(Frank Victores/AP Photo)
Right off the bat, the team with the worst record has a dire need for a signal-caller to turn the franchise around, but there is actually a lot to like here, particularly when you consider two key players coming back healthy. A.J. Green never ended up playing a game last season after tearing ligaments in his ankle during training camp, and his return, for at least one year on the franchise tag, provides whoever is picked 1st overall (read: Joe Burrow) a true #1 receiver. That also draws defensive attention away from Tyler Boyd, whose efficiency in the slot went down when pressed into that top role, John Ross, and Auden Tate and creates a strong group of targets as a whole.
The concern is that PFF's #30 offensive line won't provide the protection needed, but last year's 11th overall pick, Jonah Williams, should provide a boost after a torn labrum also caused him to miss all of last year. Although he's not a star, free-agent addition Xavier Su'a-Filo should provide an improvement in pass protection as well after both their guards struggled mightily in that area. Being able to lean on a talented running back like Joe Mixon doesn't hurt either, especially since both he and Giovani Bernard are receiving threats out of the backfield. Incumbent starter Andy Dalton is on the trading block and clearly no threat for significant snaps, so add it all up and a rookie could be set up for success early on.
2. Los Angeles Chargers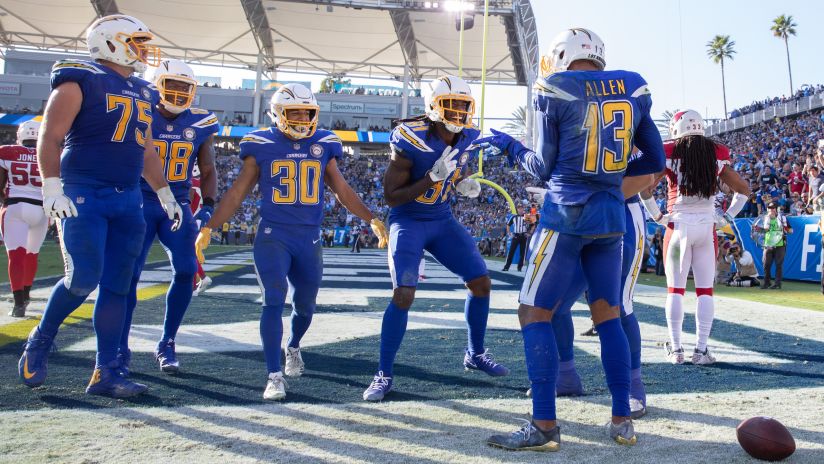 One year removed from a playoff berth, the team that was considered a contender for the Tom Brady sweepstakes still has a lot of talent throughout the roster. Keenan Allen is coming off of his third consecutive season with at least 97 catches and 1,196 or more yards, and Mike Williams just recorded his first 1,000-yard campaign to form one of just five wide receiver duos to both hit the century mark last year. Running back Austin Ekeler fell just short of joining them with 993 receiving yards to total 1,550 yards from scrimmage and 11 overall touchdowns, which earned him a four year, $24.5 million contract in restricted free agency. Through the franchise tag, Hunter Henry was also retained and has shown to be one of the best young tight ends in the league to garner that high price tag.
Like with Cincinnati, the question is with a line that ranked just 29th according to PFF. Signing Bryan Bulaga and trading for Trai Turner should make the right side of the line an actual strength, so the hole now is really just the left tackle spot. That may not matter as much as usual if they end up with lefty passer Tua Tagovailoa, however, since it would not be his blind side, and the unit as a whole looks to be in solid shape. Since they're apparently not interested in signing Cam Newton, Tyrod Taylor is the only one standing in the way of snaps, and he didn't last long as the bridge quarterback in front of Baker Mayfield in 2018.
3. Miami Dolphins
This completes the trio of teams that are expected to draft quarterbacks in the top-10. However, the outlook along the offensive line doesn't appear as rosy as the other two. After ranking dead last in PFF's grading, they overpaid for Ereck Flowers and brought in Ted Karras coming off of a down year, so it remains to be seen how good of a unit this will be up front. Still, they have two extra 1st round picks (and six of the top 70 picks overall!) that could provide more help for whoever is coming in along with dangerous skill position players already in place. DeVante Parker broke out in a big way for 1,202 yards and 9 touchdowns, with 802 of those yards over just the final eight games as he grew more comfortable in the new offense. Rookie Preston Williams looked impressive as he totaled 428 yards and three scores in his first eight career games before tearing his ACL, and sophomore tight end Mike Gesicki came on down the stretch with 417 of his 570 yards and all five touchdowns over the final nine games.
Free-agent addition Jordan Howard doesn't offer much as a receiver, but he is a strong runner to help take some of the pressure off of the passing game. The main obstacle in the way of a rookie quarterback making an impact early is that veteran Ryan Fitzpatrick might play too well after leading them to a 5-4 record at the end of the year. When the FitzMagic runs out, though, it often does so in spectacular fashion, so he could give up the job sooner rather than later.
4. New England Patriots

They have said all the right things expressing confidence in last year's 4th round pick, Jarrett Stidham, but if a talented thrower falls to them in the first couple of rounds, it wouldn't surprise anyone to see one selected. Veteran Brian Hoyer also provides some competition in theory now that he's back for his third stint with the team, but there's a reason he was let go the previous two times. Whoever is taking snaps will have PFF's #10 offensive line in front of him, and that was even with center David Andrews missing the whole season due to blood clots. He is expected back this year along with Joe Thuney, who was franchise tagged, so this should be one of the league's top units.
As far as weapons go, Julian Edelman remains reliable after another 100-catch campaign. He actually posted a career-high in yards at 1,117, and it was his sixth straight season averaging over six catches and at least 66 yards per game. Last year's 1st rounder N'Keal Harry and veteran Mohamed Sanu (whom they traded a 2nd round pick for) provide optimism as the other receiver options, and James White is consistently one of the most targeted running backs in the league. There is still a Gronk-sized hole at tight end, but with Sony Michel as the primary runner, there is not a lot missing from this offense outside of a replacement for Brady.
5. Jacksonville Jaguars
The Nick Foles experiment didn't last long, and now they are likely to bring in someone to compete with Gardner Minshew since they only invested a 6th round pick in him last year. It may not necessarily be a high pick, but this is not a bad position to step into like Minshew did last year. Although the offensive line was only 26th in PFF's rankings and didn't see any big additions, there is room for growth as the relatively young unit builds continuity together. The tackles, in particular, were 2nd round picks in 2017 and 2019 and still have time to reach their ceiling.
Leonard Fournette provides a focal point for the offense to work off of at running back, especially since he's developed into a threat as a receiver. Although D.J. Chark faded a bit down the stretch as he dealt with an ankle issue, he finished his breakout sophomore season with over 1,000 yards and eight scores. Dede Westbrook, Chris Conley, and Keelan Cole have also each had 700+ yard seasons in the past three years to form a solid receiving corps. Tyler Eifert was signed to provide the threat at tight end that was missing, and he reunites with his former offensive coordinator Jay Gruden, who is new to the team. That means he has no attachment to Minshew, so there will be an opportunity for a rookie to win the job.
Come for sports, TV, and movie takes; stay for the occasional witty line thrown in